Professor Dame Elizabeth Anionwu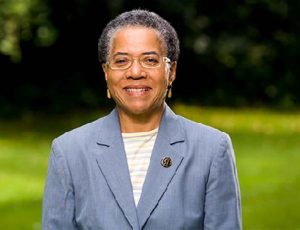 Name: Professor Dame Elizabeth Anionwu
Born: 2 July 1947
Place of birth: Birmingham,
Residencies: Birmingham, North West of England and London
Known for: UK's first sickle cell and thalassemia nurse specialist and Campaigner for a statue of Mary Seacole. Mary Seacole was the first named memorial of a Black Woman in the UK.
Awards: Fellow of the Queen's Nursing Institute (2017) and Pride of Britain Lifetime Achievement Award (2019); Commander of the Order (CBE) for services to nursing (2001)

Elizabeth Anionwu's father was Nigerian and studied with her mother at Cambridge University. The fact that Elizabeth was illegitimate led her family to put her in a home run by Catholic nuns. But this blip did not stop Elizabeth who in years to come stood for what she believed in. In conversation with the RCN (Royal College of Nursing) Elizabeth says she wanted to become a nurse at the age of 9. She said she had eczema and it was so painful when the nuns used to rip her dressings off. However, there was one nurse who used what is today known as distraction therapy.

Elizabeth really appreciated this nun, to Elizabeth, this particular nun was the most fantastic woman in the world. Later Elizabeth found out that this nun was a nurse, and this is when her mind was set to become a nurse. At the age of 9 Elizabeth finally left the children's home and went to live with her mother and stepfather.

Elizabeth acknowledges that she's suffered ups and downs with nursing but her biggest achievement was being the UK's very first sickle cell and thalassemia nurse specialist, as well as helping to establish the Sickle Cell Society.
When Elizabeth found her father in 1972, she learnt that one of her cousins had sickle cell disease. This is one of the drivers for Elizabeth becoming a sickle cell and thalassemia nurse specialist.

Elizabeth is certainly not a woman who 'wrests on her laurels'. During Elizabeth's nursing career she became a Professor and Dean of the nursing school at the University of West London. In 1998 Elizabeth established the Mary Seacole Centre for Nursing Practice to address racial inequalities in the profession.
Elizabeth was instrumental in the campaign to erect a statue in Mary Seacole's honour. When the RCN asked Elizabeth to explain, Elizabeth said it was for personal reasons. Her reason is growing up in a totally white environment, not seeing anybody like herself. Elizabeth had gone on to say as a child she used to wonder: why am I not seeing characters like me in children's book? Why don't I
see people like me on TV?
For Elizabeth the unveiling of the statue was a wonder, she said the sunwas shining and Elizabeth will always remember that.