Iman Mohamed Abdulmajid (Iman Bowie)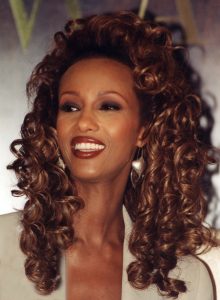 Name: Iman Mohamed Abdulmajid (Iman Bowie)
Born: 25 July 1955
Place of birth: Somalia, East Africa
Residencies: Somalia, USA, England
Known for: Supermodel, cosmetics and charity work
Awards: Gemini Award (2007) and Council of Fashion Designers of America's Fashion Icon Lifetime Achievement Award (2010)
Iman was born Zara Mohamed Abdulmajid, in Somalia, East Africa. It is said she was renamed Iman at her grandfather's urging. The name Iman in Arabic means Faith. Iman's mother was a gynaecologist, and her father a diplomat.
Iman studied at the University of Nairobi, and it was whilst she was here it is said the photographer Peter Beard 'Discovered' her. Iman went on to be an internationally acclaimed model and actress.
Sources say that between 1970 and 1980 Iman was a favourite model in Vogue. It is said that Yves Saint Laurent devoted the 'African Queen' collection to her. Iman has also modelled for other famous designers like Gianni Versace, Halston, Calvin Klein and Karan.

Iman married the rock start David Bowie in 1992 and remained his wife until his passing in 2016.
Although Iman has retired from modelling she does other things like charity work and is in business. It is reported that Iman was a successful fundraiser for Marion Wright Edelman's Children's Defence Fund and Save the Children.

Sources say that Iman broke off her connection with De Beers (a well-known jewellers that originated from Southern Africa) in an effort to raise awareness about the ethics of the diamond industry.

It is also said not only is Iman an advocate for children in third world countries, but she has also looked to increase the visibility of black women in modelling and other media.

Iman launched her own line of cosmetics for women of colour because she was frustrated with the small amounts of cosmetic products for black skin. Iman's cosmetics were aimed at women of Hispanic, Asian, Native American as well as women.

Iman business has branched out to accessories and home décor. It is said that in 2010 Iman received the Fashion Icon Award from the Council of Fashion Designers.