We are so pleased that our Founder and Chair Joyce Fraser is a finalist for the Institute of Directors (IoD) London & South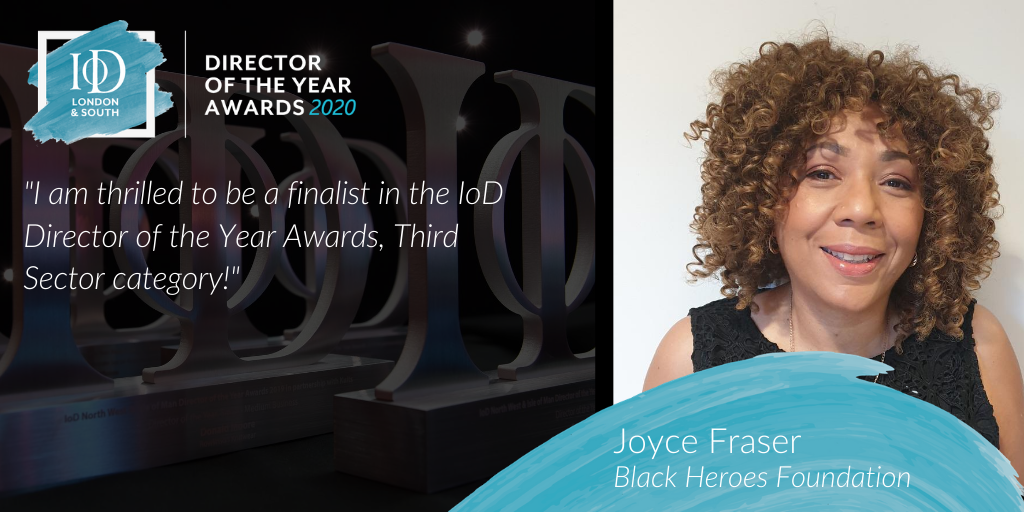 Joyce set up the Black Heroes Foundation in order to preserve the legacy of her late husband Flip Fraser and his work with the iconic show Black Heroes in the Hall of Fame. The charity was registered in October 2016. The Black Heroes Foundation uses the Arts to recognise and celebrate Black Heroes.
The Black Heroes Foundation's film the Story of Sam King MBE was screened at the Tate Modern in 2018, and Joyce's debut play the Story of Claudia Jones was live streamed as part of Wandsworth's Fringe Art Festival in May 2020.
The Covid-19 pandemic  has impacted the work of the Black Heroes Foundation. It has repurposed its activities and provides a weekly event the 'Virtual Locomotion' for those who are isolated and lonely. Initially set up to meet the needs of local Dementia Clubs, it is now open to all.  The Virtual Locomotion is a highly inclusive, interactive event that includes the celebration of black heroes, exercise, quiz, singing and dance!
I addition to her charitable work, Joyce lectures for the Open University Business School.
The  #iodawards ceremony takes place virtually on 11 September at 12:30.  The keynote guest speaker is non-other than ChildLine and Silver Line's Dame Esther Rantzen DBE.
Charlotte Valeur is the Chair of the Institute of Directors (IoD), championing their values and ceremonies such as this, recognising those who support the IoD's causes. Charlotte has worked with Societe Generale, BNP-Paribas, and S.G. Warburg in the past.
Claire Horton – Chief Executive, Battersea Dogs and Cats Home
John Palmer MA C.Dir – CEO, exec4 – Consultants and Mentors
Gemma Lacey – Director of Sustainability & Communications, Southern Co-op
Ian Calder
Murray Eldridge
Janthana Kaenprakhamroy – Founder & CEO, Tapoly
Alison Bourne – CEO, The Dash Charity
William English – Chair, Owen English & Son
Tara Mei – Bread & Jam
Steve Malkin – CEO, Planet First, & Founder, The Planet Mark
Sue Nelson – Executive Director, EY
Ross Wilson
Nis Arend – Top 1%
Keith A Cornell CDir
Luke Quilter – Sleeping Giant Media
Alicia Andrews – Commercial Director, Southeastern Railways
Jitesh Patel – CEO, Peldon Rose
Barry Lewis – Managing Director, Cadline Limited
Peter Digby – President, Xtrac
Chris Dodson OBE DL AFIChemE FIoD – Chairman, Mortimer & Torftech Groups
The Foundation is dependent upon support from the community, businesses and government bodies. Please support this great cause in order to help fulfil Flip Fraser's dream, and preserve his legacy created from the internationally acclaimed show "Black Heroes in the Hall of Fame".
We need your support, please donate where you can.
Help us to make a difference. To be that bright light in the corner of a dark room, giving diversity a Voice.