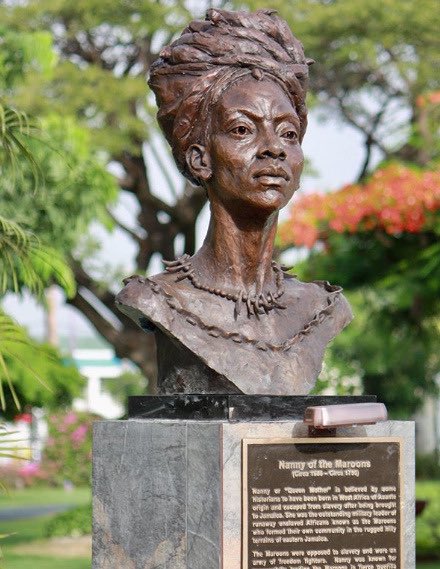 Name: Nanny of the Maroons
Title: Right Excellent Nanny of the Maroons (conferred the Order of the National Hero)
Born: c.1686
Passed: c.1755
Place of birth: Ghana, Africa
Residencies: Africa, Jamaica
Known for: Freedom fighter and leader of the maroons.
Nanny of the Maroons has a special place in Jamaica's history, and for that reason Nanny has become a National Hero.
According to the Jamaica Information Service, Nanny of the Maroons was very well known by the British settlers and maroons as an outstanding military leader. Nanny of the Maroons managed to unite her people during the time of crisis.
According to the Caribbean Election's website Nanny of the Maroons was born in Ghana, Western Africa into the Ashanti tribe. Nanny was brought to Jamaica as a slave.
Not much is known about Nanny of the Maroons' earlier life in Ghana. However Nanny of the Maroons' name came to the attention of many through the struggle of her and other enslaved people who escaped to freedom and found settlement in the mountains of Jamaica, were the Maroon community was established.
Sources say that Nanny of the Maroons became the leader of the maroon settlement, Nanny Town, in the Blue Mountain area. This area was secured by guards who were placed at look-out points. It is said that Maroon soldiers were called by the blowing of a horn of African origin called an 'abeng'.
Nanny of the Maroons showed her leadership through training her people the art of guerrilla warfare.
According to reports, it was 6 years, starting from 1728, that the British fought Nanny of the
Maroons and her forces. In later years treaties were signed by the British and Maroons as a way forward to peace.

Nanny of the Maroons' memory and legacy lives on today in the form of poems, songs, portraits and currency.