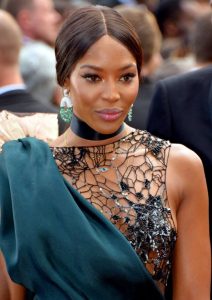 Name: Naomi Campbell
Born: 22 May 1970
Place of birth: Brixton, South London
Residency: UK
Known for: Modelling
Awards: British Fashion Council's Fashion Icon Name (2019)
Naomi Campbell is known for being a supermodel, who was born to Jamaican parents.

It is said that Naomi studied at Italia Conti Academy stage school. Naomi went into modelling when she was a teenager. She appeared on the front cover of British Elle in the 1980s. Sources say that she was the first black model to appear on the cover of the French Vogue.

In the late 1990s Naomi signed a cosmetics contract with Cosmopolitan Cosmetics, which she used as a platform to produce a range of fragrances.

Naomi has founded 2 charitable organisations, fashion relief, which raised over $1 million for victims of Hurricane Katrina. The other charity is We Love Brazil, and this is targeted at fighting poverty through supporting local artisans.

In 2019 the British Fashion Council honoured Naomi Campbell with the Fashion Icon Award. This was in recognition of Naomi's contribution to the fashion industry as well as her philanthropist work.

The Chief Executive of the British Fashion Council said in a statement: "we cannot think of a more deserving recipient than iconic Londoner Naomi Campbell, she has achieved exceptional work in the industry". They went on to say that Naomi represents female empowerment, activism and glamour and her voice is used for great impact.

It is very humbling to know that supermodel, Naomi Campbell, has used her well-famed position to help people who are less fortunate than her and many others.