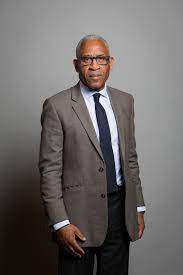 Name: Simon Woolley
Title: Lord
Born: 24 December 1961
Place of birth: Leicester, UK
Residencies: UK
Known for: Campaigning for political and social equality

Simon Woolley was knighted in June 2019 and made a life peer in December 2019. Lord Simon Woolley is the founder and director of Operation Black Vote.
He is recognised on the Black Powerlist and in Patrick Vernon's 100 Great Black Britons. Simon was fostered at a young age, and later adopted, growing up in Leicester on a council estate. He studied at Middlesex University and Queen Mary University of London gaining his BA and MA.

Simon worked as a volunteer with the political reform organisation Charter 88. During this time Simon realised that any change for marginalised groups would have to be started and led by those groups who were feeling the high pressures of discrimination in many aspects of their lives.

The Operation Black Vote was launched to convince the Black community of the power it could exert at the 1997 general election if they became more politically engaged and registered to vote. It came about to ensure that there is greater racial justice and equality throughout the UK. Their purpose is to "inspire Black and Minority Ethnic (BME) communities to engage with public institutions in order to address issues such as inequalities in education, health and employment."
In 2017, Simon was appointed by Theresa May, the then Prime Minister as the advisory chair to the Race Disparity Audit.

In 2019 Simon was knighted and made a life peer for his services to race equality.

In March 2021 Homerton College, University of Cambridge, announced the election of Lord Woolley of Woodford as the next Principal of the College. He will succeed Professor Geoffrey Ward on 1st October 2021.