Greenwich Black History Month 2019
5-7pm on Tuesday 8 October at the Old Royal Naval College, Room Queen Anne, Park Row, London SE10 9LS.
Launch of the new BAME group for University of Greenwich staff.
This event aimed to raise awareness and foster changes on a number of issues faced by BAME staff.
Our Chair, Joyce Fraser presented a talk aligned to the University's values (Creativity, Ambitions, Inclusivity, Determination and Excellence). Her talk included the screening of the Black Heroes Documentary 'The Story of Sam King', and sharing the story of her late husband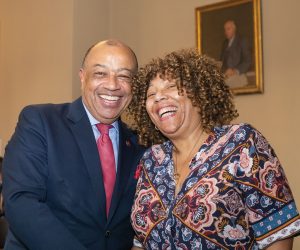 Flip Fraser and his iconic show 'Black Heroes in the Hall of Fame'. Both demonstrating the University's values. Her talk was followed by Lord Boateng (newly appointed Chancellor of the university) and a Q&A and networking session.
Black History Month 2019 – awarding-winning alumna shares inspirational story. Black Heroes Foundation at University of Greenwich
To celebrate Black History Month, award-winning Greenwich alumna Joyce Fraser shares her story about the inspirational work of a local charity she has founded.…..Read More…
#joycefraser #bhf #blackheroesfoundation #bhm #blackhistorymonth #blm #blackhistory #blacklivesmatters #blackculture #blackpride #blacklives #blackheroes #blacklives #blackculture