Black Heroes: Wall of Fame 2019
Black History Month 2019
An exhibition sharing Wandsworth Stories and the contribution of Black people to the community.
The Black Heroes Wall of Fame is an exhibition of pictures, people telling their stories, and a show for school children. Visit the Wall of Fame Oral Histories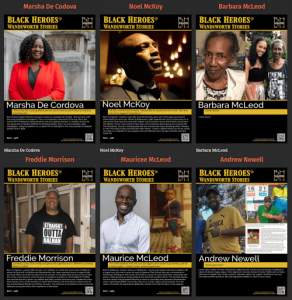 Launched in Black History Month, on 22 October through to 15 November 2019, in the libraries of Wandsworth. Celebrating that Black Lives Matter.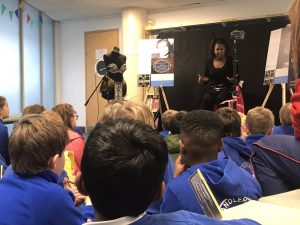 Screening of Black Heroes Foundation documentary 'The Story of Sam King' at the Chartered Institute of Fundraising (CIoF) RAISE event at Blackburn House, Liverpool.
Presenting the Black Heroes Wall of Fame and 'Wandsworth's People Exhibition' across Wandsworth Libraries – York Road Library, Balham Library, Battersea Park Library, and Earlsfield Library.
This project comprised of:
1. Oral History Recordings of Wandsworth People, featuring Andrew Newell, Barbara McLeod, Freddie Morrison, Marsha De Cordova, Maurice McLeod and Noel McKoy
2. Posterboard histories of Wandsworth people with QR code links to their oral history recordings. Each of these posters were exhibited across Wandsworth
libraries.
3. Touring Exhibition of poster boards – Classic Collection, World Series II and London's Great Women of Colour
4. Touring Black Heroes Wall of Fame musical and dance monologue telling the stories of local Black Heroes performed by Lara Harmonic. These include Stomzy, Marsha De Cordova, John Archer, Flip Fraser, Diane Abbot, and Claudia Jones.
'Wandsworth People Exhibition' and 'Wall of Fame' show at Putney Library
The school children first visited the Wandsworth People Exhibition which included poster boards about local Black Heroes such as Marsha De Codova, Maurice McCloed, Freddie Morrison, Noel McKoy, Claudia Jones, JohnArcher, Olive Morris, Lubaina Himid, Sam King and Flip Fraser; followed with a quiz.
The children were then entertained with the musical and dance monologue Black Heroes Wall of Fame, performed by Lara.
#waf #wandsworthartsfringe #inyourlivingroom #bhf #blackheroesfoundation #bhm #blackhistorymonth #blm #blackhistory #blacklivesmatters #blackculture #blackpride #blacklives #blackheroes #blacklives #blackculture