National Diversity Awards 2020
We are proud to announce that our Chair Joyce Fraser has been nominated for the National Diversity Awards!
The National Diversity Awards – a prestigious black-tie event, which celebrates the excellent achievements of grass-root communities that tackle the issues in today's society, giving them recognition for their dedication and hard work.
Charities, role models and community heroes will be honoured at the ceremony showcasing their outstanding devotion to enhancing equality, diversity and inclusion; thus embracing the excellence of all our citizens irrespective of race, faith, religion, gender, gender identity, sexual orientation, age, disability and culture.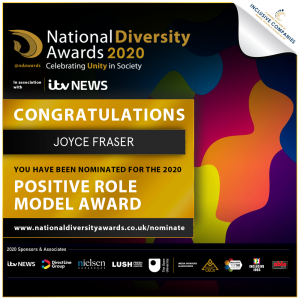 The concept for the National Diversity Awards arose when The Diversity Group identified an urgent need for more positive role models to be actively promoted, with the aim to empower and inspire the wide breadth of diverse communities across the UK.

#nda #nationaldiversityawards #joycefraser #bhf #blackheroesfoundation #bhm #blackhistorymonth #blm #blackhistory #blacklivesmatters #blackculture #blackpride #blacklives #blackheroes #blacklives #blackculture