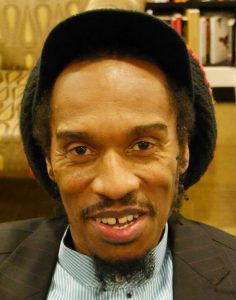 Name: Benjamin Zephaniah
Born: c.15 April 1958
Place of birth: Birmingham, UK
Residencies: Jamaica; Handsworth, Birmingham UK
Known for: Poetry, author, broadcaster and academic

Benjamin Zephaniah was born in Birmingham UK, but grew up in Jamaica. Benjamin is a very remarkable person particularly with his success as an artist, a dub poet.
Benjamin had disabilities but he overcame them. The story goes that Benjamin had problems reading and writing as a child. Reports says that he was sent to an approved school. Having difficulties with reading and writing must have
really frustrated Benjamin. Back in the 1960s and 1970s people did not have an understanding of dyslexia, and this is probably a reason why it was undiagnosed when he was at school.

It is not surprising therefore that Benjamin was angry but the most positive thing he did was to channel this anger into protest, music and performance. Yes this is how this star was born.
According to Patrick Vernon and Angelina Osborne, Benjamin was a lover of words and performance. He performed in church from a young age where he was admired for his ability to rap all the books of the bible. Shortly after Benjamin moved to London (in the 1970s) he published his first collection of poems 'Pen Rhythm'. Benjamin's poetry could be heard in demonstrations and in the clubs. The reason for this is that Benjamin's poems spoke volumes and highlighted what was happening in the black communities.
When he was offered an OBE in 2003 Benjamin declined the award for personal reasons.
Despite dyslexia Benjamin has managed to craft his talent around words. Benjamin has been called a wordsmith and he has proven this time and time again.

Despite his setback in his early education, Benjamin has since achieved an honorary doctorate in Arts and Humanities (1998); made a Doctor of Letters (1999); Doctor of University by the University of Staffordshire (2002) and he has been appointed to the National Advisory Committee on Creative and Cultural Education, and in 1988 the Ealing Hospital in London named a ward after him.