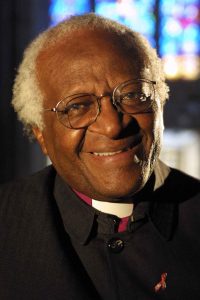 Name: Desmond Tutu
Born: 7 October 1931
Place of birth: Klerksdorp, Pretoria, South Africa
Residencies: South Africa, London
Known for: South African's Human Rights activist against apartheid
Awards: Family of Man Gold Medal (1983), Nobel Peace Prize (1984), Albert Schweitzer Prize for Humanitarianism (1986); Bishop John T Walker, Distinguished Service Award (1992) Sydney Peace Prize (1999); Fulbright prize (2008); Presidential Medal of Freedom and Audio Audiobook of the Year (2015), and many more.

Desmond Tutu was born and in South Africa, according to the Britannica website.
Initially, Desmond wanted a career in medics but instead became a school teacher sometime in 1955.
According to sources Desmond's path to religion started in 1957 when he left his teaching job to attend the St Peter's Theological College in Johannesburg. In 1961 he was ordained as an Anglican
priest.

Britannica reports that Desmond served as an associate director for the World Council of churches
between 1972 and 1975.
Sometime in 1975 Desmond was appointed Dean of St Mary's Cathedral in Johannesburg. Desmond's appointment marked history because he was the first Black African to hold such a position.

For two years, from 1976, Desmond served as Bishop of Lesotho. In 1978 Desmond Tutu accepted an appointment as the General Secretary of the South African Council of Churches and became a leading voice for the rights of Black South Africa.
In the following years he brought the attention of apartheid to the international stage. As a way of tackling this he organised non-violent protests and encouraged the implementation of economic
pressure by countries that had dealings with South Africa.
Britannica says that the award of the 1984 Nobel Prize for Peace to Desmond Tutu sent an important message to the South African government at the time.

In 2010 Desmond Tutu stepped down from public life. It's reported that Desmond continued his work with the Elders, a group of international leaders he co-founded in 2007 for the promotion of conflict resolution and problem-solving throughout the world.

According to the Noble Prize website, Desmond objectives were civil rights for all.

Desmond's awards that he received includes:
Family of Man Gold Medal (1983) Nobel Peace Prize (1984)
Albert Schweitzer Prize for Humanitarianism (1986)
Bishop John T Walker, Distinguished Service Award (1992)
Sydney Peace Prize (1999)
Fulbright prize (2008)
Presidential Medal of Freedom and Audiobook of the Year (2015), and many more