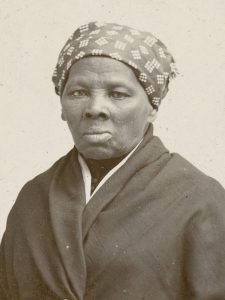 Name: Harriet Tubman
Born: c1820
Passed: 10 March 1913
Place of birth: Maryland, USA
Residency: Dorchester County, Maryland, USA
Known for: Leading abolitionist of slavery.

Harriet Tubman was born in Maryland, USA. It is said that Harriet was one of nine children. Records show that Harriet Tubman was born into slavery and escaped to freedom in the North in 1849 to become the most famous on the Underground Railroad. By this, it is meant that Harriet not only risked her life but helped hundreds of slaves through the route to freedom.
Harriet Tubman's early life was full of hardship, and one can assume that it is from this source of feeling that she became an abolitionist and spent a lifetime helping enslaved people.

Harriet married, in 1844, to John Tubman who was a free black man. This means that he was free and no longer a slave. But under the law at the time any children the Tubmans had would be enslaved. It's suggested that John did not have the same compassion nor the dedication that Harriet had and this may have resulted in the split of their marriage.

Harriet remained active in her cause to help enslaved people and eventually teamed up with John Brown who was also in favour of the abolition of slavery. She worked for the Union Army. The Union Army fought to keep both sides of America (North and South) together as well as end slavery.

Harriet remarried in 1869 to Nelson Davis, who was a civil war veteran. They adopted a baby girl some years later into their marriage.
Reports show that Harriet made over 18 trips from the South to the North using the network which we know as the Underground Railroad. Among the people Harriet helped to escape to freedom were both Harriet's parents and a number of her siblings.
Harriet died of pneumonia on March, 10 th 1913.

The Guardian has reported that President Biden's government is now taking steps to revive
plans to put Harriet Tubman' on the USA $20 bill.