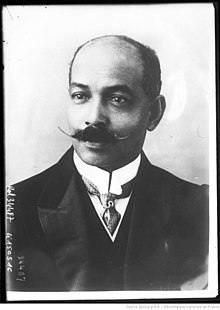 Name: John Richard Archer
Born: 8 June 1863
Passed: 14 July 1932
Place of birth: Blake Street, Liverpool
Residencies: Liverpool and Battersea, London
Known for: The first Black Mayor in London, Mayor of Battersea

John Richard Arthur was born on 8 June 1863, Liverpool. John's mother, Mary Theresa Burns was an Irish Catholic, and his father was a ship steward from Barbados.

For a period of time John was in the merchant navy.

The 1901 census has John living at 55 Brynmaer Road, near Battersea, and his occupation as a professional singer. The census also showed that Bertha Elizabeth, John's wife was from Halifax in Canada.
John had Pan-African sympathies. He attended the first Pan-African Conference in July 1900, which took place in Westminster Town Hall.
John was a political activist. In November 1906, he was elected to Battersea Borough Council and re-elected in 1912 council elections. In 1912 John was elected by his political party as Mayor for the period of November 1913 to November 1914.
John died on Thursday 14 July 1932. Battersea Council expressed its deepest sympathy to John's relatives. The Labour Leader said that John Archer had been a very ardent worker for the benefit of coloured races. It was recognised that John was always ready to take up the case of those who ask for assistance.

William Sanders, MP wrote in the South Western that: "John was one of the largest hearted men he had ever had the pleasure of knowing". Amongst other things he wrote it can be said that he (John) left behind him a multitude of friends and not a single enemy. He (John) was one who deserved well of the community, for he had served it well…. "

It is very touching that John ultimately received the respect and honour he so much deserved.