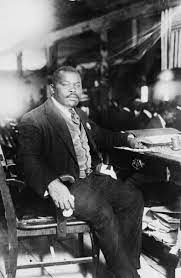 Name: Marcus Mosiah Garvey, Jr
Born: 17 August 1887
Passed: 10 June 1940
Place of birth: St Ann's Bay, Jamaica, West Indies
Residencies: Jamaica, Latin America, USA, London
Known for: Pan African sympathies

Marcus Garvey has a rich history. He was born in Jamaica and traveled to worked in several Latin American countries before settling in London. Marcus's Garvey Sr, Marcus's father was a stone mason. Marcus's mother on the other hand carried out domestic work for other people.

Marcus formed the Universal Negro Improvement Association in 1914. This was used as a vehicle to achieve black nationalism through the celebration of black history.

Whilst in London Marcus studied at Birkbeck College (University of London), and worked as a messenger and handyman for the African Times and Orient Review. This was a journal that favoured Pan-African nationalism.
In 1927 Marcus returned to Jamaica where he continued with his promotion of Pan- Africanism work whilst in Jamaica.
Eight years later Marcus moved to London. After multiple strokes Marcus died on 10 June 1940.
The English Heritage website's states that Marcus Garvey lived at 53 Talgarth Road around 1937. In memory of Marcus , The English Heritage in 2005 placed a blue plaque where his had his bedroom and library. The English Heritage website's says that Marcus was unimpressed with the opportunities on offer to Black people, and that he was a regular at Speakers' Corner in Hyde Park.
Marcus's legacy is the highlighting of black history and equality it has with other histories. It's probably for this reason why Marcus Garvey is, and remains, a Jamaican national hero.