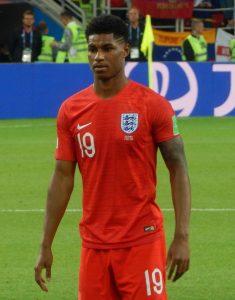 Name: Marcus Rashford
Born: 31 October 1997
Place of birth: Wythenshawe, Manchester
Residency: England, UK
Known for: English Professional footballer and campaigner.

Marcus Rashford was born to Melanie and Robert Rashford, and has 4 siblings. Marcus's introduction to football started at the very tender age of 4. Reports says that he joined the Fletcher Moss Ranger's football club, and even then he stood out as a talented
footballer. His football skills were so impressive that Manchester United academy signed him to their footballer system. In 2016 Marcus became the youngest English player to score in his first senior international game.
However, Marcus is not known for just being a professional footballer. He has led a successful campaign to end child food poverty in England and in his campaign asked the government to offer a guaranteed meal a day to all school children in England in financially struggling families.
It's fair to say that Marcus is both committed and passionate about his campaign to the point of becoming an ambassador of FareShare. FareShare works to support vulnerable children at risk of hunger over the summer holidays. This is an issue very close to Marcus's heart. Marcus grew up in a home where they relied on free school meals and at times on food banks.

The Guardian newspapers says that Marcus has achieved two of his original demands, which his campaign seeks. The first demand is the providing of meals and activities to low-income families during school holidays and the expansion of the healthy start voucher scheme. He has also called for a full-scale review of the free school meals system.

Marcus's campaign is timely. The pandemic virus and national lockdowns have caused a lot of hardship for many families. It is so refreshing to see a successful person not forgetting their humble beginnings, and putting back into society.