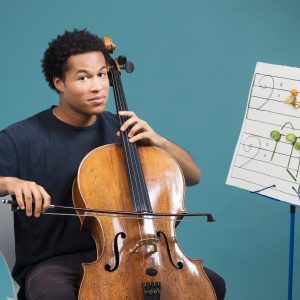 Name: Sheku Kanneh-Mason MBE
Title: Member of the British Empire (2020)
Born: 4 April 1999
Place of birth: Nottingham, England
Residency: UK
Known for: First Black musician to win the BBC Young Musician competition
Awards: BBC young Musician competition award (2016)
Sheku Kanneh-Mason is a young adult who is a cellist. Sheku comes from a musical family and grew up in Nottingham, England. His father is Stuart Mason, who is a business manager, and his mother is Dr Kadiatu Kanneh, a former university lecturer. Whilst both parents played instruments in their youth, they were not professional musicians. However, all of Sheku's siblings are talented music players. Sheku won a junior scholarship at the Academy of the Royal Academy of Music.

In 2016 Sheku won the BBC Musician of the Year award. Sheku became well-known by the public when he played at Prince Harry and Meghan Markle's wedding, in 2018. This was watched by nearly 2 billion people worldwide.
Not surprisingly, Sheku and his family have been the topic in a number of documentaries, including the CBS Sunday Morning, BBC Four's Young, Gifted and Classical and BBC One's 2020 Imagine: This house is full of music.

Sheku has played the tune on Bob's Marley 'No Woman No Cry, in a cello arrangement. He has also made history as being the first cellist in the chart history to land a place in the UK official album chart top 10.

Sheku is someone to be very proud of. He has made phenomenal achievements in his short lifetime.