Professor Shirley Thompson, OBE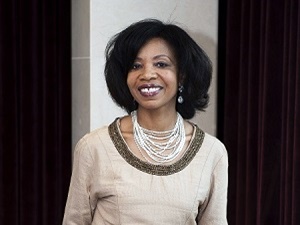 Professor Shirley Thompson, OBE (Born 7 January 1958 – )
Place of birth: East London (UK)
Known for: Composer, conductor and violinist
According to English National Ballet, Shirley Thompson's roots starts from Newham, East London.

The University of Westminster's website states that Shirley's musical experience began with her playing the violin for various youth symphony orchestras in London, as well as choral singing with local choirs in Newham.

In 'a meet the artist interview (2018)' Shirley says that she was inspired by many performers and composers. Classical music for her was an 'external music' outside of her home experience. This experience was different and new to Shirley as she grew up in a Caribbean household where her dad would play lots of music in the house like Blue Beat, Ska, Rock Steady, Reggae and Gospel as well as Tchaikovsky.
It's reported that Shirley comes from a musical family. Apparently, all of her brothers were DJs and played different types of music like dance music, soul, house and dub etc.
Shirley is a prominent English composer, and academia and is known to stage her opera productions in her role as an artistic director.
Shirley has many strings to her bow and is now the Professor of Music at the University of Westminster.
It is said that Shirley is a visionary and also a cultural activist. She has shown this by extending the boundaries of "classical music composition and performance with ground-breaking productions". As a result of this Shirley has reached new audiences across the world. As a testament to this, she was featured as one of the changemakers in the Guardian's 2,000 year history poster of critical events and activists.
It's has been reported that Shirley is the first woman in Europe to have composed and conducted a symphony – a full orchestra – within the last 40 years. The Royal Philharmonic Orchestra performed and recorded her New Nation Rising (A 21 st century Symphony). This
piece of work was in celebration of London's thousand year history. What's also fascinating, is that this work was first commissioned for the Queen's Golden Jubilee, which was in 2002.
For 6 consecutive years Shirley (starting from 2010), the Evening Standard has named her in their Power List of Britain's Top Most Influential Black People.